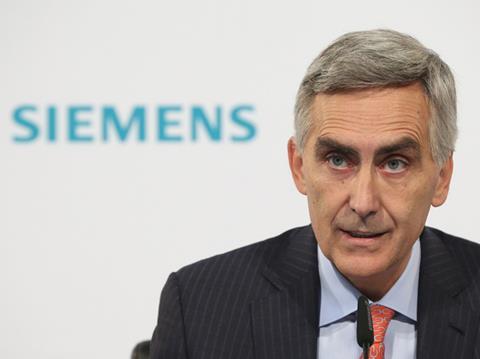 SIEMENS: Revenue of €78·3bn for the year ending September 30 2012 was up 7% on the previous year, Siemens announced on November 8, although new orders were down 10% to €76·9bn. Income from continuing operations fell from €7·4bn to €5·2bn, 'in line with expectations'. The backlog reached €98bn.
In the Infrastructure & Cities Sector, which includes Siemens' rail activities, new orders dropped 20% to €17·2bn. The company said this was primarily a result of major rail orders booked the previous year, including the DB ICx contract, 'the biggest order in the company's history'. Sector profit was €1·1bn, slightly below the previous year.
'A strong fourth quarter enabled us to fulfil our expectations for fiscal 2012 and achieve one of our best years ever', said Siemens President & CEO Peter Löscher. 'Even so, we didn't fully succeed in significantly boosting our performance vis-à-vis competitors, as we did in recent years. To get back to reaching our own goals, we've launched Siemens 2014, a company-wide programme aimed at raising our Total Sectors profit margin to at least 12%. We know what we have to do - and we're doing it.'
Siemens 2014 aims to reduce costs by €6bn and make the company 'faster and less bureaucratic'. Siemens plans to acquire other companies in its core areas, and divest businesses whose profits remain below expectations.