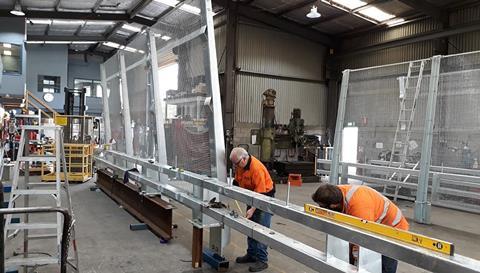 AUSTRALIA: Sydney-based structural design, metal fabrication and site installation company RKR Engineering and Rhomberg Rail Australia are to be merged as Rhomberg Sersa Australia with effect from April 1.
The new name is part of a global rebranding of all Rhomberg Sersa Rail Group companies to provide a common brand and promote shared values.
The international rail infrastructure engineering, construction and maintenance group acquired RKR Engineering in April 2020, and the two firms moved into purpose-built facilities at Horsley Park in August 2022.
Over the past three years, RRA and RKR have collaborated on a number of major projects, including Brisbane's Cross River Rail link, where RKR was commissioned to design and build two specialised concrete finisher trains for RRA's slab track installation contract. The two have also worked on the Sydney Harbour Bridge deck replacement project and the replacement of bridge bearings along the North Coast route.
Although the companies will be merged into a single entity, RKR Engineering will continue to operate as a separate business unit within Rhomberg Sersa Australia.
'These changes signify the next exciting chapter in our company's history', said RRA Managing Director Richard Morgan. 'We are proud to have been involved in some of the world's most challenging rail projects and look forward to providing innovative solutions that build on our combined strengths and experience.'