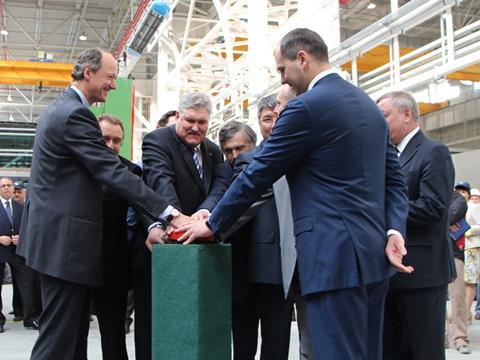 RUSSIA: Domestic assembly of Desiro RUS electric multiple-units at the Ural Locomotives plant in Yekaterinburg was ceremonially launched by Siemens AG managing board member Roland Buschof and Dmitry Pumpyansky, President of Sinara Group, on May 25.
Siemens' plant at Krefeld in Germany fulfilled Russian Railways' initial orders for the regional EMUs, which are branded Lastochka by RZD, but production of a further 1 200 cars which were ordered in 2011 for delivery in 2015-20 is to be undertaken by the Train Technologies joint venture with Sinara.
The first of the domestically-produced EMUs is expected to be ready for testing in May 2014, and Russian content is to be gradually increased from 55% to 80%.
'This marks a further chapter in the success story of Siemens Rail Systems in Russia', said Jochen Eickholt, CEO of Siemens Rail Systems. 'After not only achieving early licensing for the Desiro RUS trains together with RZD, but also putting them into passenger-carrying service around six months ahead of schedule, today sees us commence production of the further Lastochka cars on time. We are thus sending out a clear signal of our ambitious goals for the Russian market. With our works in Yekaterinburg, we are ideally set up for production of locomotives and regional train sets alike.'
Ural Locomotives estimates that RZD will order around 24 000 regional passenger vehicles by 2030, and the joint venture is developing plans for EMUs suitable for trips up to 200 km, inter-regional trains for journeys up to 600 km and long-distance trains for routes up to 1 000 km.