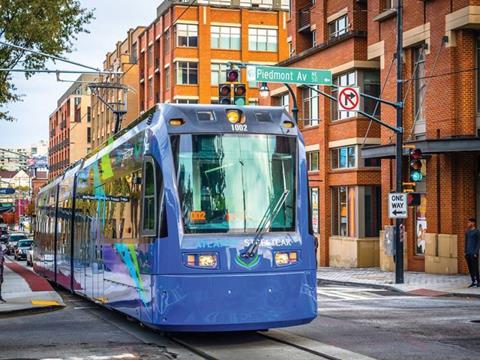 USA: Siemens has formed a Digital Rail Services business to improve rail operations by creating an 'internet of trains' making intelligent use of data generated by sensors on infrastructure and vehicles.
The Digital Rail Services business is based at the Georgia Institute of Technology Campus in Atlanta. It aims to combine Siemens' global experience of digital analytics with knowledge from its existing US rail centres in California, Kentucky and Pennsylvania and an East Coast Locomotive Service Headquarters in New Castle, Delaware, which is scheduled to open this summer.
The digital services will be based on the Railigent cloud-based industrial data analytics platform and Mindsphere internet of things operating system. This will offer real-time monitoring of vehicle state and location, remote diagnostics, root cause analysis and smart prediction to support maintenance. Additional capabilities will include cyber security functions.
The first applications will be on the light rail networks in Atlanta and Charlotte. Data from the Siemens-built Atlanta Streetcar fleet will be analysed to identify issues including traffic bottlenecks slowing down services, locations and times with higher energy consumption and places where the warning horn is used which could be a sign that infrastructure improvements might increase safety. Siemens is working with Charlotte Area Transit System on a pilot programme to use near real-time diagnostics and data analysis to increase fleet availability.
'Today, rail vehicles send between one and four billion data points per year and rail infrastructure can send billions of messages just inside a specific system,' said Simon Davidoff, head of Siemens Mobility Digital Services in North America on April 20. 'With our Digital Services business, we're taking not only experience from our global rail footprint but also our extensive company-wide digital expertise to turn billions of data points into action, including the ability to detect malfunctions well before they can cause problems and information that helps improve arrival times and punctuality for riders.'