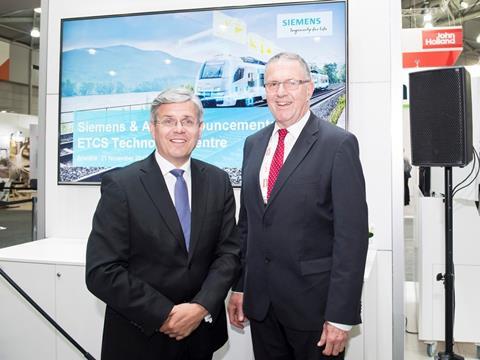 AUSRAIL: In a ceremony during the first day of the AusRail Plus 2017 exhibition, Siemens announced on November 21 that it is investing A$4·8m to develop an ETCS technology centre in Brisbane, to support its signalling activities across Australia, New Zealand and the Southeast Asia region.
The company said it was looking to create more hi-tech jobs and future exports from Australia. With ETCS 'fast becoming the global standard for train control and seen as pivotal for future development of existing rail networks', Siemens said its investment in people, technology and training would see Queensland 'lead the country and Asia Pacific in ETCS technology'. Starting with a staff of 10, the centre is expected to grow to 17 employees within the next year and could eventually total 30 to 40 people.
Chairman & CEO of Siemens Australia & New Zealand Jeff Connolly said the decision was 'a demonstration of Siemens' commitment of building rail signalling expertise in Australia', following the successful implementation of ETCS in Adelaide and Auckland, where the additional capacity had helped to accommodate an average growth in rail patronage of 20% year-on-year over the past two years. It also reflects strong demand for the technology and engineering expertise from markets such as Thailand. 'We need intelligent rail infrastructure capable of coping with future needs. The best way to do this is to build local skills in globally proven rail standards and technology.'
Australasian Railway Association CEO Danny Broad said Siemens' commitment was 'a major vote of confidence in Australia's rail industry'. He pointed out that rail infrastructure was 'a key focus for the federal and state governments, with billions of dollars earmarked to support projected growth'. As such, 'it makes sense to leverage globally proven technology and build the skills and knowledge locally to support Australia's rail industry'.
Siemens' global Head of Mainline Rail Automation, Gerhard Greiter, added that ETCS was 'by far one of the most significant advances in rail in recent times', and Siemens had completed projects in China, Saudi Arabia, Australia and New Zealand as well as several European countries. 'The team in Queensland have already been trained amongst the best in the world and will now play a pivotal role in taking Australian expertise to the world.'