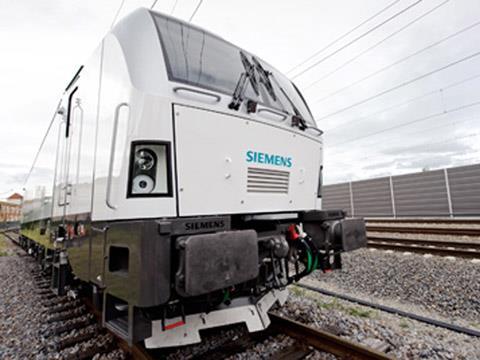 EUROPE: Siemens Mobility announced on December 22 that it had signed the first contract for supply of new locomotives from its modular Vectron family. München-based leasing company Railpool GmbH has ordered six locos for use on passenger and freight services in Germany and Austria.
The contracts were signed at the Siemens plant in München-Allach by Railpool's Executive Director Dr Walter Breinl, the CEO of Rolling Stock at Siemens Mobility Jörn F Sens and head of locomotive sales Jens Chlebowski. Deliveries are expected to begin in mid-2012.
The Vectron family was formally launched at the InnoTrans trade fair in September 2010, with four demonstrators on show: AC, DC and multi-system electric locos and a diesel-electric variant.
The initial order covers six locomotives rated at 6 400 kW for 15 kV 16·7 Hz operation, to be used on cross-border freight and passenger services at speeds up to 200 km/h The 87-tonne Bo-Bos will be assembled at München-Allach, with bogies coming from Graz.
Brienl said the leasing company was looking for 'a high degree of flexibility' when selecting locomotive, which made the Vectron concept ideal for its requirements. Railpool GmbH was founded in 2008 as a joint venture by KfW IPEX-Bank and HSH Nordbank. It leases rolling stock, locomotives, as well as EMUs and DMUs.
The Vectron family has been developed from Siemens' established Eurosprinter and Eurorunner design, of which more than 1 600 locomotives have been built. The design features a crashworthy cab design with energy absorption and a modular internal layout permitting easy reconfiguration if necessary for future applications.
'We are very pleased that a renowned company like Railpool has decided in favor of our Vectron', said Chlebowski. 'Railpool is the first customer to choose this modern, high-performance, reliable locomotive with its very wide range of possible applications. What pleases me in particular is that Railpool will enable other customers to be exposed to Vectron and won over by its convincing qualities.