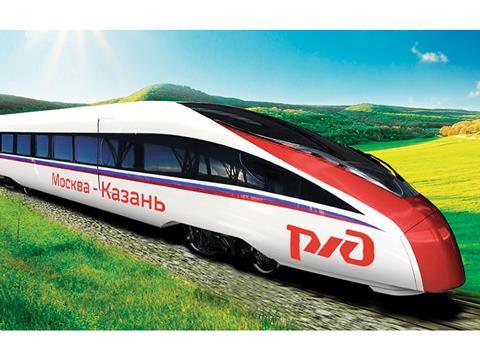 RUSSIA: An agreement to establish a Russian joint venture for the production of high speed rolling stock capable of speeds above 300 km/h has been signed by Sinara Group Chairman Dmitry Pumpyansky and CRRC President Xi Guohua.
The companies envisage manufacturing at least 100 high speed trainsets in Russia, with CRRC responsible for design, planning, quality control and technical support. The initial focus would be on supplying trains for the planned 770 km Moscow – Kazan high speed line.
Russian Railways President Oleg Belozerov and his Сhina Railway Corp counterpart Sheng Guangzu attended the signing ceremony in Beijing on June 25, as part of a meeting between the two countries' presidents. RZD and CRC also signed an agreement to develop a 'high-speed Moscow – Beijing International Transport Corridor', with the construction of the Moscow – Kazan high speed line seen as a priority.