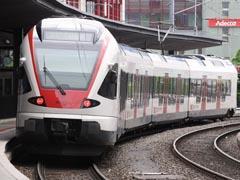 SWITZERLAND: Trading of Stadler Rail shares on the SIX Swiss Exchange began on April 12.
The offer price for the initial public offering was set at SFr38 per share, in the upper half of the announced price range of SFr33 to SFr41. This values the base offer at SFr1·33bn and gives Stadler a nominal market capitalisation of SFr3·8bn.
The IPO was oversubscribed multiple times, with strong demand from institutional investors in Switzerland and internationally as well as from domestic private investors. Settlement is expected to occur on April 16.
Executive Chairman Peter Spuhler has contributed 35 million shares to the base offering. The joint global co-ordinators have been granted an over-allotment option of up to 5·25 million shares, equivalent to up to 15% of the base offer size and exercisable in whole or in part within 30 days. The free float is expected to amount to 38·16% of Stadler's market capitalisation before exercise of the over-allotment option and 43·41% if the option is exercised in full. After the listing and assuming the option is exercised in full, Spuhler would hold 39·70% of the share capital.
The company, RAG-Stiftung and all members of Stadler's board have committed to a lock-up period of 12 months from the first day of trading. The selling shareholders have also committed to ensure that their combined shareholdings will not fall below 30% for an additional 24 months.
'I am delighted about the successful pricing of our IPO and the strong investor demand for Stadler's shares', said Spuhler. 'The order book reflects the strong interest from Swiss and international institutional investors as well as from domestic private investors in our company. This is clearly another milestone in the history of the company and I remain fully committed to the continued success of Stadler both as the largest shareholder and as Executive Chairman.'
Group CEO Thomas Ahlburg said 'we are very excited about the success of our IPO, which clearly indicates that Stadler is well positioned both in the railway industry and among Swiss industrial companies. We welcome our new shareholders and look forward to continuing our success story'.