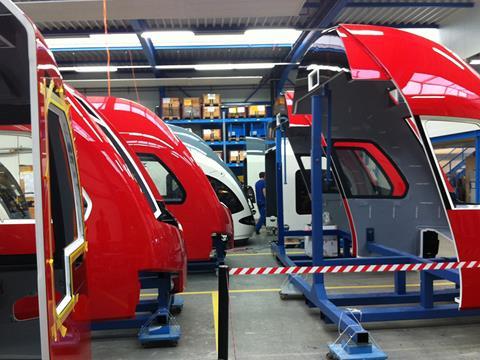 SWITZERLAND: Stadler has reported record orders and earnings before tax for the 2021 financial year.
Orders were up by 28% on the prior year to SFr5·6bn. The company's order book stood at SFr17·9bn at the end of the year, and revenue rose 18% to SFr3·6bn, despite what Stadler termed a 'tense supply chain situation'. EBIT was up from SFr156·1m to SFr223·7m, and the EBIT margin rose to 6·2%. Overall group profits amounted to SFr134·5m, slightly down on the previous year due to exchange rate losses.
Stadler termed 2021 'an eventful and successful year', with Chairman Peter Spuhler commenting that 'although the economic situation is still affected by the pandemic, in particular with regard to supply chain issues, we can look back proudly on our best year since the IPO'.
The group's Rolling Stock segment turned in a particularly strong performance, with a 16% rise in revenues to SFr3·2bn thanks to increased deliveries of new vehicles.
In 2022, Stadler expects revenue of SFr3·7bn to SFr4·0bn for the group as a whole, with the EBIT margin remaining steady.
The company remains optimistic about its core markets in 2022, despite the uncertainty caused to the economy and capital markets by recent political developments, especially in the CIS region. The company says that increasing urbanisation, increased awareness of climate issues and digitalisation are all contributing to increased demand for reliable and efficient public transport vehicles.
However, it cautions that it is unlikely to achieve its target EBIT margin of 8 to 9% in 2023 as previously forecast, predicting instead that this would be achieved by 2024-25.