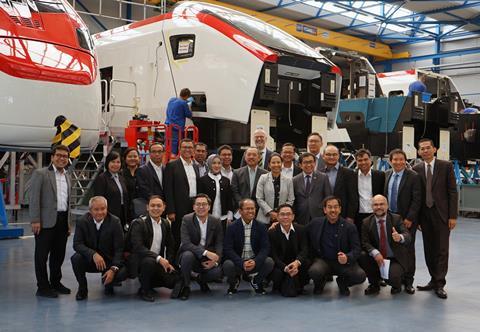 INDONESIA: State-owned rolling stock manufacturer PT Inka and Swiss company Stadler have signed an agreement to form a joint venture to develop and manufacture modern aluminium-bodied rolling stock at Banyuwangi in East Java.
The contract was signed at Stadler's plant at Bussnang on September 20 in the presence of Rini M Soemarno, Indonesia's Minister of State Owned Enterprises. It follows from a declaration of intent agreed on March 9.
Technology transfer and the training of local staff is subject to an order being received for 500 suburban rail coaches with an option for 500 more.
Stadler said the joint venture marked a 'strategically important leap' which would provide it with a base from which it could gain access to the wider Southeast Asian market.
'Following several failed attempts to successfully enter the Asian market from Europe, we realised that this was not possible without a production site on the spot', said Stadler Chairman Peter Spuhler. 'We therefore decided to look for a suitable local partner, and have finally managed to find one after more than 10 years of searching.'
PT Inka started construction of the factory at Banyuwangi in January, and production is scheduled to begin in 2021. The plant will undertake car body manufacturing, as well as preassembly, final assembly and commissioning. The location was chosen because it has access to a port which could be used to export rolling stock, with target markets including Australia, Taiwan and Africa.