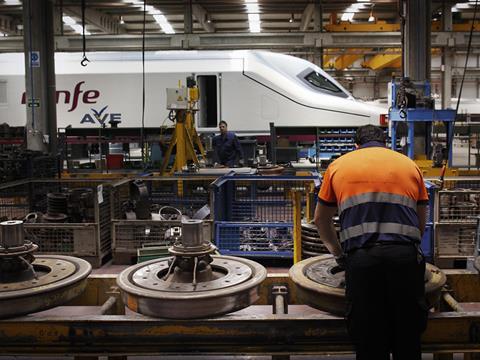 UK: Spanish rolling stock manufacturer Talgo has confirmed that it is developing plans to open a factory in the UK with a 'fully localised supply chain', to support its strategy of gaining a foothold in the British and Irish rolling stock manufacturing and overhaul markets.
Talgo President Carlos de Palacio has recently held industry meetings in the UK to publicise the company's ambitions, and in September former Hitachi Rail Europe Production Director Jon Veitch joined the company as Key Account Manager, UK & Ireland.
Talgo said it has already held discussions with local authorities, members of parliament and other stakeholders, and was analysing 'a dozen locations', including sites around Leeds and Liverpool, where it could undertake 'the whole train construction process' should it win contracts which are currently being tendered.
Talgo said the new facility would create 'hundreds of highly-skilled jobs and to spur the development of local talent', supplying customers in the UK and Ireland as well as supporting its global activities 'by tapping the renowned British components industry.'
Talgo said the need to provide more passenger capacity within the challenging constraints of the UK network offers a 'level playing field' where its designs would be competitive. The company pointed out that it offers regional and commuter designs as well as high speed trainsets, and it has experience of electro-diesel trainsets capable of running from new lines onto existing routes.