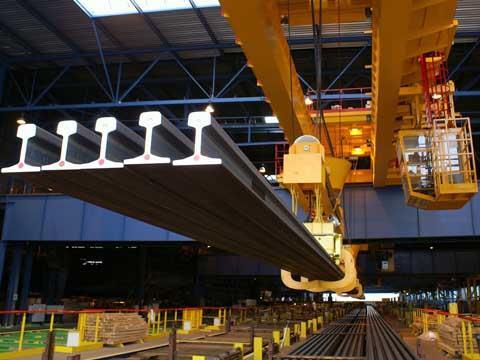 FRANCE: Tata Steel is to more than double annual production of heat-treated rail at its Hayange mill from 55 000 to 120 000 tonnes, under a €12m investment plan announced on July 25.
The project is scheduled to be completed by autumn 2013, and will equip the mill to treat rails up to 108 m long instead of the 36 m maximum on the existing line.
The treatment process uses an electromagnetic field to heat the steel to 950 C. The rail is then rapidly cooled using compressed air. This leaves low residual stresses in the treated rail, which can last up to three times longer than standard rail in high-wear conditions such as routes with heavy axleloads and on tight curves.
'This investment reinforces our commitment to developing a range of premium rail products', said Gérard Glas, head of Tata Steel's Rail Sector.
'Investing in a new heat treatment plant will open up new European market opportunities to us. We will be able to meet the needs of customers in Germany, Switzerland, Belgium, The Netherlands, Luxembourg and Scandinavia who are demanding longer length heat-treated rail to reduce life-cycle costs. It will also allow us to continue to support existing markets, such as Brazil, Gabon, Mauritania and South Africa where rails have to cope with heavier axleloads, as well as metro systems in Hong Kong, India and Singapore'.