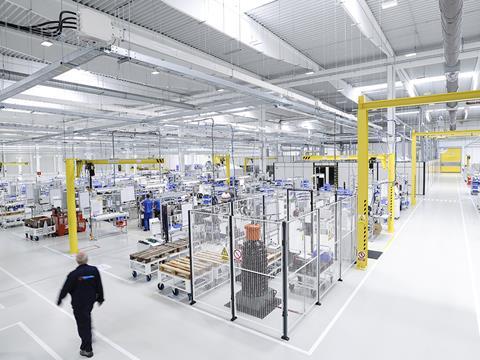 INTERNATIONAL: The terms for Wabtec's planned acquisition of Faiveley Transport which had been agreed on October 6 2015 have been modified, the two companies and the Faiveley family announced on October 25.
Completion of the deal is expected by the end of the year, subject to regulatory clearance in the USA and European Commission approval of the sale of Faiveley Transport Gennevilliers to a third party.
Under the revised agreement, Wabtec would acquire between 25% and 45% of the Faiveley family's 51% stake for €100 per share in cash. The remainder of the family's stake would be exchanged for Wabtec common stock at a ratio of 1·125 Wabtec shares per Faiveley Transport share, plus 150 000 shares of Wabtec common stock.
The Faiveley family can designate definitive split of cash and shares no later than five days before closing. If it decides to exchange less than 75% of its shares for Wabtec common stock, the family has committed to purchase Wabtec common stock directly in the market in order to hold at least 6·3 million shares of Wabtec common stock.
As a consequence of the modification of the initial agreements, Wabtec's mandatory public tender offer for all remaining Faiveley Transport shares would offer the shareholders a choice of a cash at €100 per share or an exchange for Wabtec common stock at a ratio equivalent to the ratio at which the Faiveley family exchanged their shares, capped at the same percentage of the publicly-held shares as the percentage of shares exchanged by the family.
Wabtec and Faiveley may seek to limit this to a cash tender if the price of Wabtec common stock would be materially less than the cash price offered per Faiveley Transport share at the time of the completion of the purchase of the family's shares.
The parties have agreed to extend the long stop date to December 31 2016, with the possibility of a further extension until March 31 2017.