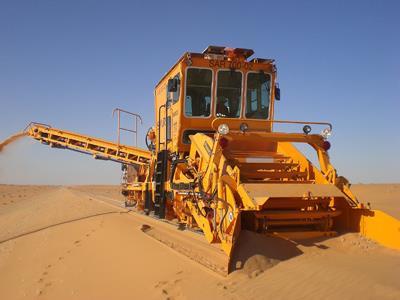 SAUDI ARABIA: Plasser & Theurer has announced orders to supply a range of track maintenance and sand removal machines to Saudi Railway Co, Saudi Railways Organization and two contractors.
North-South Railway developer SRA has bought four SRM 500 sand removal machines, three 08-16 SH levelling, lifting, lining and tamping machines, two DGS 90 N dynamic track stabilisers and three PBR 500 ballast regulating machines. The 08-16 SH, DGS 90 N and PBR 500 machines are to be deployed as a mechanised maintenance train, co-ordinating operation to maximise efficiency.
SRO has ordered two cyclic-action two-sleeper Duomatic 08-32 SH split-head tampers, as well as eight OBW 10 Sprinter track motor vehicles. These are suitable for transporting staff and materials, with a loading platform and crane.
SRO is buying two SRM 500 sand removal machines in co-operation with contractor Al-Mobty Co, which has also ordered a cyclic-action two-sleeper Unimat 08-32 4S tamper for tracks and turnouts that will enter service in 2013.
Meanwhile, contractor Saudi Archirodon has ordered an EM 120 track recording car equipped for corrugation measuring.