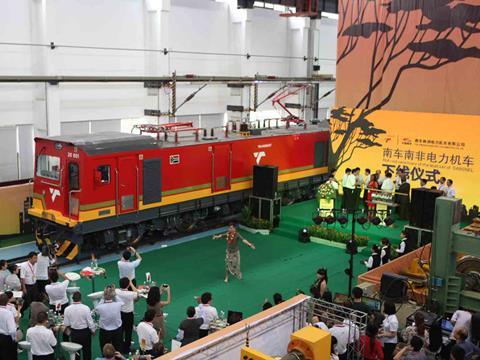 SOUTH AFRICA: Parastatal transport holding group Transnet announced on December 4 that it had signed a Memorandum of Understanding with CSR Zhuzhou Electric Locomotive, paving the way for the Chinese manufacturer to set up facilities to build and maintain electric locomotives in South Africa, and develop other railway equipment for the African market.
The agreement was signed in Beijing by Transnet Group Chief Executive Brian Molefe and CSR Chairman & President Zhou Qinghe at a ceremony attended by Chinese President Xi Jinping and South African President Jacob Zuma during an official state visit.
CSR is one of four suppliers selected by Transnet Freight Rail to build 1 064 new locomotives under a R50bn investment programme announced earlier this year. The others are China CNR Corp, Bombardier and General Electric. During his visit, Molefe is expecting to sign a similar agreement with CNR covering the production of diesel locomotives.
As part of the country's technology transfer policy, all but 70 of the new locomotives are due to be built in South Africa. According to Transnet, the group will initially make available its existing Transnet Engineering rolling stock manfacturing plants at Koedoespoort, Pretoria and Durban, while the Chinese company will provide the necessary technology. CSR and Transnet would later establish a 'joint venture entity' to be based in South Africa.
Under the latest MoU, Transnet and CSR have agreed to share their expertise and develop further areas of 'possible co-operation', including the establishment of a research and development facility and the establishment of a training centre for skills transfer, as well as the setting up of plants for locomotive manufacturing and refurbishment. The two companies will look at 'joint initiation and development of business opportunities' in other parts of Africa.
Transnet has also committed to 'investigate opportunities' for establishing a free trade agreement between South Africa and China.