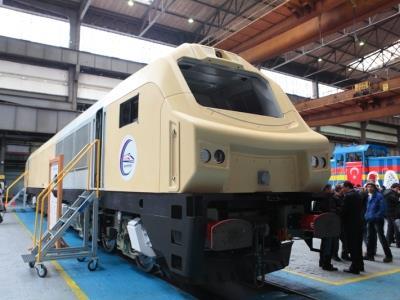 TURKEY: State-owned rolling stock supplier Tülomsaş says it is optimistic about winning more export business in Asia and North Africa as the liberalisation of national railway TCDD requires it to adopt a more commercially-driven business model.
Speaking to Railway Gazette International at the Eurasiarail trade fair in Istanbul on March 4, Export Manager Sibel Önal Akçin said that the company was optimistic of winning more orders for the PowerHaul diesel locomotives which it assembles in Turkey to a GE Transportation design. To date the company has supplied 20 locomotives to TCDD and 10 for European operators, and Akçin suggested that the opening of the Iranian market should present further opportunities, 'especially among the private operators'. Other target markets include Pakistan, she added.
Tülomsaş has also developed two shunting locomotive designs, the 522 kW DH7000 and 895 kW DH12000, which are equipped with Cummins engines and Voith transmissions.
In addition, the company expects to receive 'next month' certification that its Eanoss hopper wagon meets European TSI standards. This would be its second wagon design to meet European standards, and Akçin said the company is 'in negotiations' with potential customers in the EU.
'In the next 10 years we expect increased competition in the Turkish railway supply sector', Akçin confirmed. 'In future, although we will be in the TCDD group, we will be expected to operate in a more commercial manner. We feel we are already well placed to win more orders in the Middle East, North Africa and other regions where we already supply components, such as Thailand.'