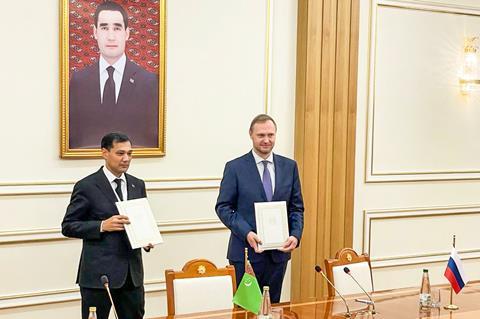 TURKMENISTAN: A memorandum of understanding for co-operation to modernise the Gyzylarbat rolling stock repair plant was signed by national railway Demirýollary and Russian Railways subsidiary RZD International at the International Transport & Transit Corridors: Interconnection & Development 2023 conference in Ashgabat on May 4.
The Gyzylarbat plant is the oldest in the country, dating back to 1881. Modernisation aims to support the maintenance of the Demirýollary fleet as well as rolling stock from neighbouring countries.
'Conditions have been created for strengthening and building up bilateral Russian-Turkmen cooperation in the field of railway transport, and our partners are interested in joint implementation of projects for the construction of new and reconstruction of existing railway infrastructure', said Sergey Stolyarov, Director General of RZD International.
'The experience of RZD International in the field of engineering and construction in foreign countries, our ability to attract resources, and the technological base of the Russian Railways to create a modern, safe and efficient railway infrastructure, will undoubtedly become the basis for the successful implementation of future projects.'