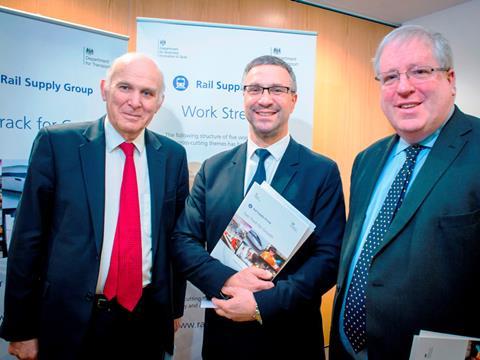 UK: On January 21 the Rail Supply Group published 'Fast Track for Growth', a 'vision statement' for the development over the coming months of a long-term rail industrial strategy including 'a clear implementation plan'. Bringing together government and the supply industry as well as train operators, Network Rail and HS2 Ltd, RSG is co-chaired by Transport Secretary Patrick McLoughlin, Business Secretary Vince Cable and Alstom UK President Terence Watson.
According to Watson, the UK now has the chance to create 'a truly world-class domestic supply industry', building on the current high levels of demand at home to seek new opportunities in a world market expected to grow by a 'healthy' 2⋅7% per annum over the next six years. Top of RSG's five targets for 2025 is to 'more than double export volumes', estimated to have accounted for only 10% of the £1⋅4bn of UK railway equipment and manufacturing revenue recorded in 2013, compared to 20% in France or 50% in Germany.
RSG also aims to attract 'the very best UK talent' in order to create a sustainable skills base and develop new technology. The strategy would aim to harness 'the energy, drive and innovation' of small and medium-sized enterprises to meet the needs of the world market, where the UK supply industry is now looking to be 'a global leader in high speed rail'.
The final aim is to have 'an entrepreneurial supply chain that constantly innovates to meet customer needs, from urban to inter-city networks'. Strategies to achieve these targets are to be developed under five work streams, cross-cut by six themes that are 'common threads important to the industry', including safety, 'single railway leadership' and identifying and promoting the UK's unique selling points.
'We are committed to keeping the industry on track as a global leader which is why we are creating a unique partnership through the Rail Supply Group', said Cable. 'The group will work together to future-proof this valuable sector through a long-term Rail Supply Chain Industrial Strategy, creating more jobs and ensuring that the UK can capture a share of the global rail market worth £150bn per year'.