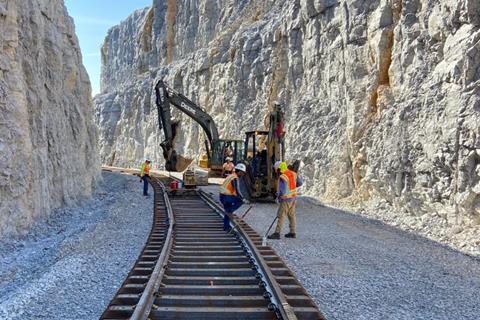 NORTH AMERICA: US rail infrastructure contractor American Track Services has acquired Canadian company Universal Rail Systems from investors led by TorQuest Partners.
North American Rail Solutions has been created as the parent company for the two infrastructure and terminal services brands, with ATS CEO Thomas Lucario being appointed CEO of NARS, ATS and URS and Ken Reger as CFO. Tim McMillan is President & COO of URS, leading operations in Canada, and will join the NARS board.
'The consolidation of American Track Services and Universal Rail Systems will create increased capabilities that are unmatched in the industry', said Lucario.
McMillan said 'our combined experience, resources and scale will enable us to provide our customers with the highest level of service throughout North America'.
ATS is owned by DFW Capital Partners. 'Less than 18 months after our original investment in American Track Services, we have become the leading North American provider of rail inspection, maintenance, repair, and niche construction services to industrial customers', said Managing Partner Keith Pennell. 'With the addition of Universal Rail Systems, we will not only broaden our footprint into Canada, but build upon established relationships and proven capabilities in the Class I and transit segments.'
URS was represented by Northborne Partners and Lazard. Affiliates of DFW Capital Partners made an additional equity investment in the company, coupled with support from ATS' existing lender, PineBridge Investments.