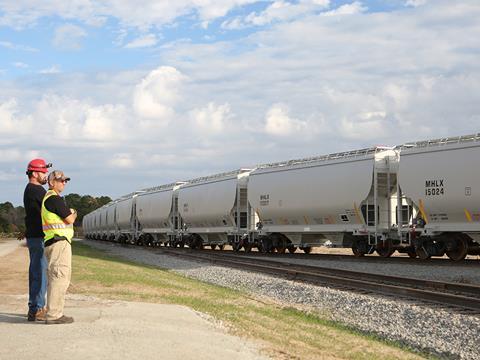 USA: The Vertex Railcar Corp joint venture of US and Chinese companies has delivered the first batch of wagons to be assembled at its plant in Wilmington, North Carolina. This follows Association of American Railroads certification which was announced in late December.
The first 30 of 60 sand hoppers were delivered last month, as part of an initial order for 300 wagons. According to Vertex Railcar CEO Donald Croteau a further 2 800 hoppers have now been ordered.
Vertex Railcar is owned by start-up Vertex Rail Technologies (33%), Chinese rolling stock supplier CRRC (22%) and Hong Kong-registered private equity firm Majestic Legend Ltd (45%). Over the past year it has completed the first of three production bays at the former Terex Crane factory site in Wilmington, built a rail spur into the plant, and recruited 200 employees. CSSR provided managers from CRRC Yangtze, supplied jigs and factory equipment and provided training in China for the initial workers.
In September Vertex began assembling hopper wagons from pre-cut steel parts shipped from China and US-made components. By mid-January production had ramped up to 2½ wagons per day, and the company aims to increase this to four per day.
In August the company said it was the second manufacturer to receive a DOT-117 tank car construction certificate from AAR, and it is currently building prototypes for M-1002 certification.
Through separate US ventures, CRRC is also supplying metro cars for Boston and funding a group promoting a Las Vegas – Los Angeles high speed line proposal.