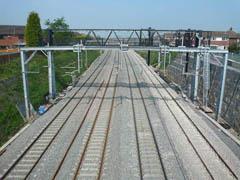 UK: Network Rail is using high-definition video and partial three-dimensional virtual reality desktop signal sighting software developed by Gioconda to plan the locations of signals and gantries for the northwest electrification project.
The tool helps to ensure signals are located for maximum visibility, and electrification masts will not obstruct existing signals.
'Over many years of development we have transformed the process from an obtrusive manual operation to a desk-based solution, which is capable of being more accurate and visually correct', explains Gioconda director Simon Crittenden.