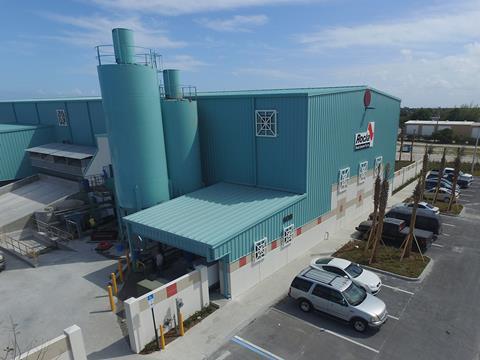 USA: As part of a strategy to strengthen its core rail infrastructure business, Vossloh has acquired North American concrete sleeper manufacturer Rocla Concrete Tie, at an estimated cost of US$117m.
The contract to acquire Rocla from Altus Capital Partners II was signed on December 5, and subject to regulatory approval the deal is expected to be completed at the beginning of 2017. The Denver-based company manufactures concrete sleepers for plain track and turnouts, as well as low-vibration track blocks and level crossing panels, with several plants in the USA and Mexico. In March it opened a facility in Fort Pierce to serve Florida East Coast and Brightline, while another plant in Tucson is expected to open in early 2017. In the financial year to June 30 2016, Rocla Concrete Tie reported total sales of US$88·2m.
Owned by Altus since 2013, the company will now become the Vossloh Tie Technology business unit within the group's Core Components division, alongside Vossloh Fastening Systems. From a financial perspective, Vossloh expects the Tie Technology unit to achieve 'an EBIT margin in the double-digit range in the medium term'.
According to Vossloh AG CEO Hans M Schabert, 'the acquisition of Rocla Concrete Tie boosts our market position in North America considerably', thanks to Rocla's established market position and close relationship with both freight and passenger operators. 'In future we will be in a position to offer our customers optimally-adapted complete systems consisting of sleepers, fastenings and switches for all rail types', he explained.
Rocla President & CEO Peter Urquhart, added that the two companies had been working closely for many years, with most Vossloh rail fastenings in the USA being mounted on Rocla sleepers.
Vossloh also announced that it was strengthening its Lifecycle Solutions division, signing a contract on December 2 to purchase the remaining 50% of its Alpha Rail Team joint venture with Sersa, which provides mobile rail milling services in Europe.