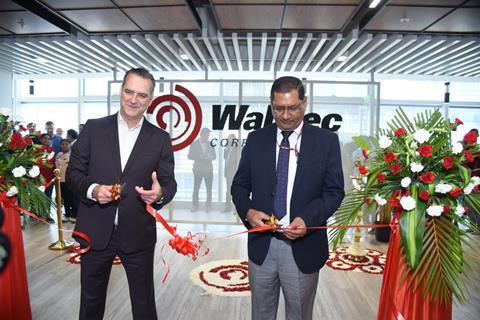 INDIA: The Wabtec India Engineering & Technology Centre was inaugurated on December 12.
The company is investing US$5m in the facility, which will occupy five floors of a building on the ITC Green Campus in Bangalore.
This will house engineering teams from across the company's digital electronics portfolio, with the current staff of 600 expected to grow to more than 1 000 by the end of 2020.
'This region provides the right talent pool for us to support the growth of our India operations', said Gopalakrishna Madabhushi, Wabtec's Global Director, Globalisation. 'We will be hiring 250 engineers to work on our railway and digital platforms.'
The site will have laboratories working on distributed power, Positive Train Control, Trip Optimizer, electronic air brake, signalling, EdgeLINC and many other products from across Wabtec's portofolio.
'Our engineering team in India has been essential to bringing breakthrough technologies to the industries we serve', said Global Chief Technology Officer Dominique Malenfant. 'This new design and development centre will increase our capabilities in additive technology and testing. It also establishes a collaborative environment for the India team to drive innovation along with our development hubs in Europe and the USA.'