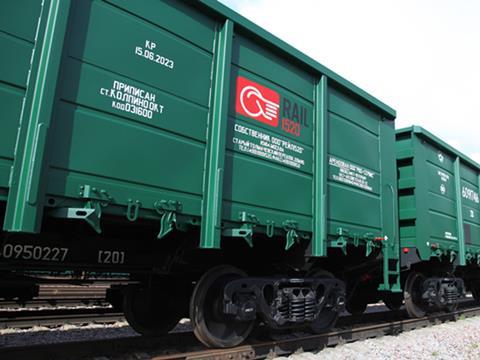 RUSSIA: US rolling stock component and braking equipment manufacturer Wabtec Corp signed a joint venture agreement with United Wagon Co at the Expo 1520 railway show at Shcherbinka on September 12, paving the way for the introduction of new technology in the Russian and CIS rail freight markets.
Incorporated in 2012, UWC manages the Tikhvin Freight Car Building Plant in the Leningrad region and rolling stock leasing company RAIL1520 LLC; the company also plans to establish in-house maintenance and engineering operations to support its growing fleet.
According to the partners, the joint venture will develop and produce new component types, notably those designed for heavy haul operations. These will be used on vehicles assembled at Tikhvin and made available to other Russian and CIS rolling stock manufacturing and maintenance companies. The components will initially be supplied from the USA, but production at Tikhvin is expected to start in 2014 under a localisation process lasting for several years. 'Certain intellectual property rights' for the new designs will be vested in the joint venture.
UWC General Director Roman Savushkin, said the new components would improve the vehicle operating characteristics and safety, adding that the co-operation agreement would focus particularly on the development of heavy haul technologies. Wabtec Chairman & CEO Albert J Neupaver said the partnership would 'make a meaningful contribution to the further development of the Russian car building industry'.
During Expo 1520, European rail industry association UNIFE signed a Memorandum of Understanding to strengthen ties with UIRE, the Russian Union of Industries of Railway Equipment. Signed by UNIFE Chairman Henri Poupart-Lafarge of Alstom Transport and UIRE President Valentin Gapanovich, Senior Vice-President of RZD, the agreement aims to improve co-operation, foster the development of new technology in the European and Russian markets, promote the IRIS quality standards, and harmonise technical legislation.