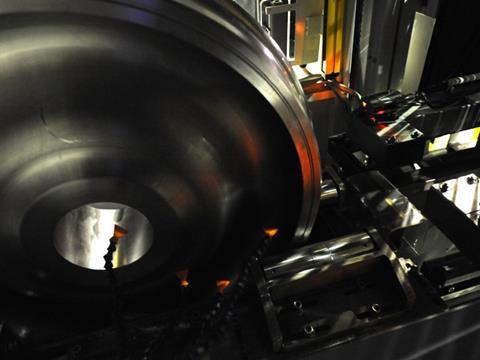 SOUTH AFRICA: Italian wheelset manufacturer Lucchini RS expects to deliver its first locally-machined wheels for the South African market in September, the company announced on July 1.
Lucchini RS has been active in the region for 13 years, and committed in 2015 to localise the final machining process in support of the South African government's job creation programme. The company says it is the first international manufacturer of forged wheels to localise in the country. It is partnering with two 100% Black-owned South African companies, SafLog Musi Investments and Pilot Investment. Lucchini South Africa (Pty) Ltd has achieved BBBEE Level 4 and is targeting an improvement to Level 3.
The group is investing R120m in a 10 000 m² plant at Germiston, to the east of Johannesburg. This imports forged wheel blanks from Italy, and undertakes final machining and inspection before delivery to the customer. The machining equipment was ordered in April 2015, in line with Lucchini RS Group's strategy to standardise its manufacturing processes. The plant is now operational, and has been awarded long term contracts from a number of strategic clients.
In the initial phase of operations, the company expects to create approximately 45 new jobs, and achieve a local content level of between 30% and 40%. Further expansion of the plant is envisaged, with a medium-term target of approximately 100 employees. Lucchini RS has launched an extensive training and skills transfer programme, under which key employees are able to spend three weeks at the company's Lovere headquarters in Italy.