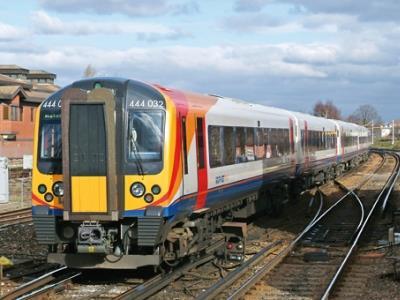 UK: A £3·2m programme to install wireless internet on the 45 five-car Class 444 Siemens Desiro EMUs operated by South West Trains was announced on July 4. As well as enabling passengers to access the internet and e-mail on the move, wi-fi will enable real-time monitoring of on-train equipment and, in conjunction with forward-facing cameras mounted in the cab, the possibility of monitoring track and the third rail power supply from revenue trains.
Wi-fi installation is scheduled to take place over the next 12 months. Christian Roth, Fleet Director for the alliance between SWT and Network Rail, said he was 'very keen to introduce it in a short period of time', as wi-fi 'gives us a benefit as well'. As train formations are to be lengthened and the service frequency increased to meet demand on the busy commuter routes into London Waterloo, fleet reliability has to be high to avoid the significant impact of any in-service failures.
Over the last two years, SWT has invested £15m to improve the performance and reliability of its Class 444s and the 127 Class 450 Desiro EMUs supplied and maintained by Siemens. This has included the installation of variable-stiffness radial arm bushes on bogies to reduce track wear, fitting heating elements to couplers to prevent the build-up of snow and ice in winter, and modifying the fleet for regenerative braking. With SWT's 30 Alstom Class 458 EMUs also returning current to the third rail during braking, the annual energy saving is put at 50 million kWh, or 'enough to power more than 11 500 UK homes for an entire year'.
The programme has also included the first deployment on a European passenger network of RailBAM, an acoustic monitoring system for axle bearings first developed for heavy haul operations in Australia. To date, 8·4 million individual bearing passes have been recorded by the RailBAM units installed trackside at Swaythling and Mortlake, of which 3·3 million were SWT rolling stock. This has enabled over 60 bearings to be withdrawn for preventative maintenance, some nine months before likely failure.
'We have been at the leading edge of rail engineering improvements over the past two years', said Roth. 'This new investment in wi-fi technology and other enhancements will provide more productive journeys for our customers and lay the foundation for other significant improvements'.