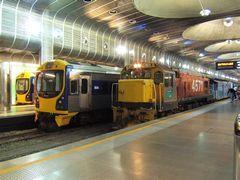 NEW ZEALAND: A consortium of Spanish manufacturer CAF and Mitsubishi of Japan has reportedly been selected as preferred bidder to supply and maintain 57 three-car electric multiple-units to operate the Auckland suburban network now being electrified at 25 kV 50 Hz.
The deal had been expected to be announced on September 30, and CAF representatives are understood to have been in the country for the past week to complete the contract negotiations. However, discussions with Auckland Council and Auckland Transport over the maintenance element are understood to have delayed the final signing, which is now expected by October 7.
The 1 067 mm gauge trains are due to be delivered from mid-2013 and enter service in 2014. A final price has not yet been announced, but the cost is believed to be in the region of NZ$640m.
The national government had previously agreed to provide a NZ$500m loan towards the acquisition of 38 three-car sets, but citing 'favourable purchase conditions', it recently approved an additional NZ$90m grant to facilitate a larger order, with Auckland Council to meet any additional costs. The extra 19 units would largely eliminate the need for diesel operations except for those services running beyond the electrified area.
This funding is part of the government's NZ$1·7bn investment in the city's metropolitan rail network, which includes NZ$600m for the Developing Auckland's Rail Transport upgrading programme and a further NZ$500m for the infrastructure required to support electrification.
The trains are being procured by KiwiRail under a tender launched in February 2010, but Auckland Transport will then take ownership of the new depot and electric trains as well as the existing DMUs and loco-hauled trainsets, becoming responsible for all rolling stock maintenance. The suburban services are currently operated by Veolia Transport Auckland under a contract which runs until 2014.
In total 11 bidders were initially shortlisted for the Auckland contract, including South Korea's Hyundai Rotem which is currently delivering 48 two-car EMUs for Wellington's 1·5 kV DC suburban network.