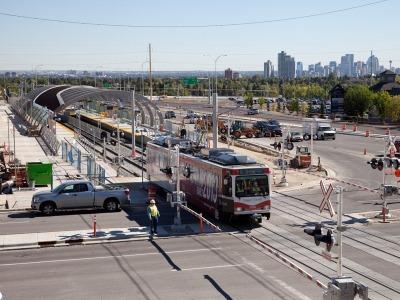 CANADA: The western leg of Calgary's CTrain light rail line was officially opened on December 8. The opening ceremony for the C$1·4bn West LRT project was attended by the mayor of Calgary Naheed Nenshi, the Premier of Alberta Alison Redford and Transportation Minister Ric McIver.
The 8·2 km extension includes six new stations: Sunalta, Shaganappi Point, Westbrook, 45th Street, Sirocco and 69th Street. The journey time between Downtown West/Kerby and 69th Street is 12 min. The extension is operated as part of the Blue Line, which terminates at Saddletowne in the northeast.
The extension has a mix of ground-level, elevated, cutting and tunnel alignment. In conjunction with the opening of the light rail line, local bus services in western Calgary have be reconfigured to feed into the LRT stops. Two park and ride facilities have been opened at 69th Street and Sirocco stations.
Improved journey times are expected to increase ridership to a projected 40 000 passengers per day over the next few years. On December 10, the first day of service, nearly 30 000 passengers rode the new route.
Although the West LRT project was approved by the City of Calgary in 1988, funding was only approved in November 2007. Following public consultations, construction began in early 2010. The design-build joint venture comprised SNC-Lavalin, Graham Infrastructure, Cana Construction and Enmax Power Services Corp.