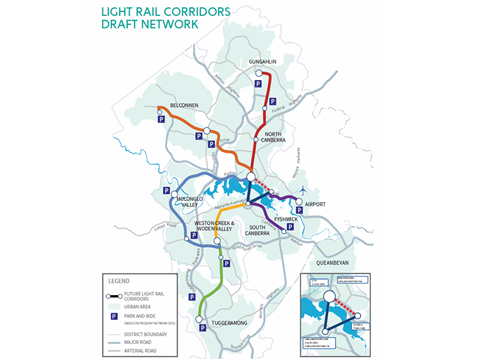 AUSTRALIA: With construction of the first light rail line in Canberra scheduled to begin next year, the Australian Capital Territory Government has begun public consultation on a 'clear, strategic and long-term' vision for future phases of the network.
Stage 1 of the Capital Metro will run for 12 km from Alinga Street in the city centre to Gungahlin. This is intended to form the basis of a city-wide network.
Consultation is intended to assess whether future expansion should be based on serving commuters from across the wider Canberra area, or on intensifying public transport use close to major business, government and tourist locations.
Seven corridors are proposed:
Gungahlin – City, to be built as Phase 1;
Parliamentary Triangle, serving an area which contains 60% of all employment in ACT;
Woden – City;
Tuggeranong – Woden (Athllon Corridor);
Eastern connections (Fyshwick and Airport);
Belconnen – City;
Molonglo – City.
'The ACT Government is planning for Canberra's transition into a significant world city through building on current foundations and opportunities to maintain the position of the world's most liveable city, with a fully integrated transport network,' said Mick Gentleman, ACT Minister for Planning on October 26. 'The public consultation for the draft light rail network is an opportunity for the community to have their say on the future proposed corridors as this document will work to direct the long-term strategy and vision'.
The consultation was welcomed by the Australasian Railway Association. 'Canberra is set for further expansion over the coming decades, the transport needs for a city of 500 000 people is vastly different to that of 300 000, leaving the city's car dependency unviable for a modern, sustainable city', said ARA Chief Executive Danny Broad. 'Now is the time to start planning this major infrastructure project and look at how the rail network will integrate with the existing bus network. Continuing to plan ahead and invest in Canberra's transport infrastructure is crucial in order to effectively serve the needs of Canberra and its growing population.'
Transport Canberra is to be established as a single agency to run the bus and future light rail networks, ACT Government has announced.