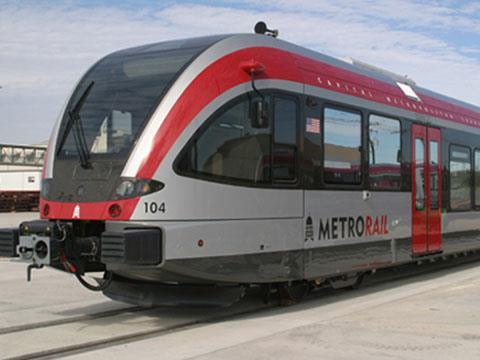 USA: Capital Metro's nine-station commuter Red Line will begin revenue service between downtown Austin and Leander on March 22. Federal Railroad Administration inspectors gave their approval for commercial operation on March 5, following final testing on the 52 km route during February and early March.

The line was within days of opening in late March 2009 when officials announced an indefinite delay owing to a number of safety and operational issues. These related primarily to the signalling and level crossing equipment and software, some of which had to be replaced. During the setback, Cap Metro replaced operating contractor Veolia with Herzog and the agency's general manager resigned.

The initial service will provide 19 trains on weekdays, running at 35 min headways — six southbound and three northbound trains in the morning, and six northbound and four southbound during evening commute hours — with some runs terminating short of Leander. These will be operated using six Stadler GTW 2/6 diesel LRVs. Freight service will continue but only during overnight hours. A regular weekend service is not envisaged for the foreseeable future.

The Red Line will be fare-free for at least the first week, after which $2 or $3 will be charged, depending on the distance travelled. Passes will cost $6 for a day, $20 for a week and $70 for a month. The 52 km trip will take around 60 min.

Completion of the project, whose final price tag has risen by $15m to $105m, comes two years later than originally anticipated.