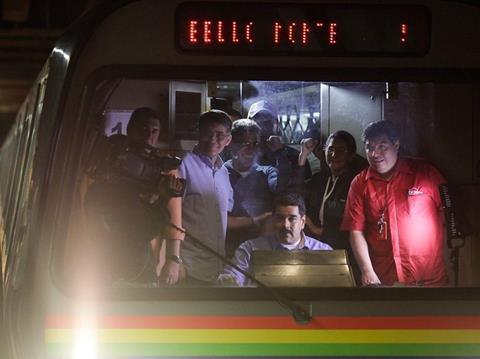 VENEZUELA: The first section of Line 5 of the Caracas metro, running for 1∙3 km from Zona Rental to Bello Monte, was officially opened by President Nicolás Maduro on November 4, accompanied by Metro de Caracas President Luis Sauce.
Serving southeastern Caracas, Line 5 will eventually be 16 km in length and is expected to cost a total of US$300m to build. From Bello Monte, it will run for 7∙5 km to Las Mercedes, Simón Bolívar, Bello Campo and Hugo Chávez, and then for 7∙1 km to Montecristo, Boleita, El Marqués and Warairarepano.
The first section of Line 5 is expected to be used by 30 000 passengers/day, operated as an extension of Line 4 from Zona Rental. With the platforms at Bello Monte 45 m below the surface, the extension has introduced separate station and tunnel emergency ventilation systems to the Caracas metro.