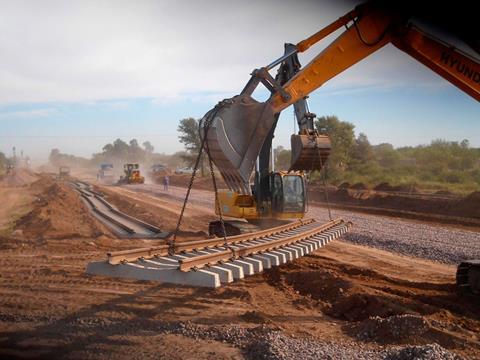 ARGENTINA: The Ministry of Transport announced on February 21 that its track renewals programme on the 1 000 mm gauge Belgrano network had completed 400 km of the 535 km to be upgraded under the first phase.
Involving the replacement of wooden sleepers with concrete, new rail and reballasting with stone ballast, work has now been completed on 122 km of route C12 in the province of Santiago del Estero, 78 km in Chaco province and 203 km on route C6 in Santa Fe.
With aim of cutting both the transit time and cost of moving export consignments to the port of Rosario, 'we are leading the most important upgrade ever undertaken of our rail freight network', said Transport Minister Guillermo Dietrich. Completion of the first 400 km 'fills us with enormous pride', added Guillermo Fiad, President of infrastructure authority Trenes Argentinos Infraestructura.
Work sites are now being prepared in Salta province for the start of Phase 2 of the programme, with contracts for Phase 3 to be awarded shortly. The Belgrano upgrade also includes renovating 33 bridges in areas susceptible to flooding at a cost of 600m pesos. Two have been completed in Santa Fe province, with work underway on 24 and the remainder out to tender.