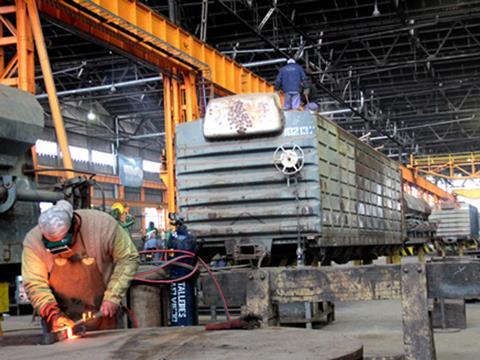 ARGENTINA: With the aim of increasing production capacity for wagon overhaul, the federal government has allocated 15m pesos to modernise equipment at the Tafí Viejo rolling stock maintenance workshops in the province of Tucumán. Training in project management and industrial design has been provided by national technology body INTI.
With current staffing levels of 110 personnel expected to double over the short term, Tafí Viejo is currently overhauling wagons for Belgrano Cargas y Logística. INTI is also developing a technology transfer project for wagon maintenance and construction, and will be involved in establishing quality control procedures for bogies and wheelsets as well as braking systems.
'The first objective is to repair 33 wagons a month, but once underway production should not stop as the market is asking for it', said works manager Oscar Guzmán. 'Agricultural producers and mining companies are interested as transport costs are lower by rail', he added.