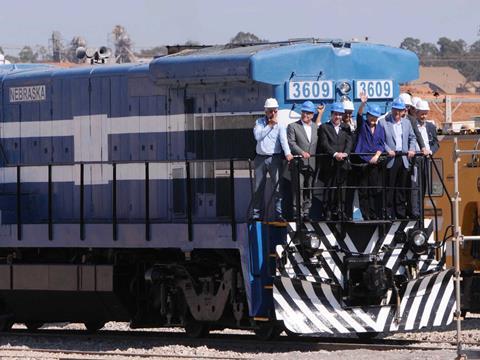 BRAZIL: On May 22 President Dilma Rousseff officially opened the 855 km section of the North-South Railway between Porto Nacional in Tocantins state and Anápolis in Goiás. Speaking at a ceremony in Anápolis on what she described as an 'historic day', Rousseff said that her government was taking forward the North-South project to create 'the railway of railways' that would form the spine of the country.
'Today the North-South Railway arrives in Anápolis', said Transport Minister César Borges. As the 'logistics centre of Brazil', the city would play a decisive role in the developing the interior of the country, he said. The latest section of the North-South Railway to open had received investment of R$4⋅2bn under the government's PAC programme to accelerate economic growth.
Covering 24 ha and served by six tracks 3 760 m in length, the freight terminal at Anápolis has been designed to handle containers as well as bulk products including grain and fertilizer. Initial traffic between Anápolis and Porto Nacional is expected to include iron ore moving to the port of São Luís, while facilities for handling manganese ore have been provided at Gurupi.
Marking the arrival of the 'open access' model in Brazil, federal railway construction agency Valec will be responsible for operating and maintaining the new infrastructure between Porto Nacional and Anápolis. A notice published on May 12 had invited bids to operate freight services within three months.
The North-South Railway project was launched in 1987, with the 719 km between Açailândia and Palmas opening to traffic in 2007, followed by the 23 km from Palmas to Porto Nacional in 2010. The project comprises a total of 4 155∙6 km of new railway, with the 480 km northern section from Açailândia to Barcarena being taken forward on a concession basis.
At the southern end, Valec is at work on the 682 km from Ouro Verde near Anápolis to Estrela d'Oeste, with the Ministry of Transport reporting that physical works are 60% complete and are expected to be finished in 2015. The 264 km from Estrela d'Oeste to Panorama would be taken forward on a concession basis, while Valec is completing the final phase of technical, economic and environmental feasibility studies for the remaining 1 200 km from Panorama to Rio Grande.