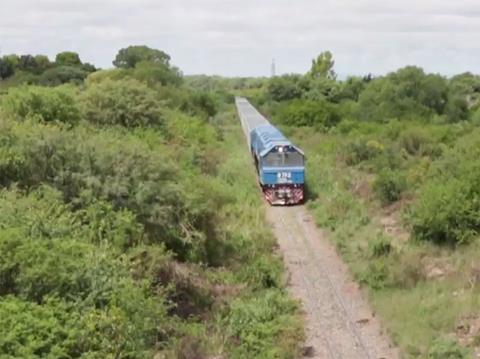 ARGENTINA: State-owned oil company YPF has presented the Ministry of Transport with a US$500m project to build a rail connection to the Vaca Muerta field in the province of Neuquén, requiring new construction and the upgrading of existing infrastructure over a total of 700 km. In addition to materials required for fracking, it is forecast that 6 million tonnes of freight could be moving by 2030 between the railhead at Añelo and the port of Bahía Blanca.
The first phase would see the existing route between Cippoletti and Contralmirante Cordero upgraded for 20 tonne axleloads and an average operating speed of 45 km/h, expected to cost US$27m. A new 85 km route from Contralmirante Cordero to Añelo is costed at US$128m, while a 39 km bypass around the city of Bahía Blanca would cost US$50m to build.
The second and third phases of the project, costing a total of US$158m for work over 287 km, would see new alignments built between Bahía Blanca and Cippoletti to avoid built-up areas. The cost of acquiring rolling stock for the project has been estimated at US$170m.
YPF President Miguel Gutiérrez has indicated that the company would be willing to fund the project alongside the federal government. The latter is reported to be considering taking it forward as a public-private partnership, with the potential to attract investment from the mining, petrochemical and railfreight sectors.