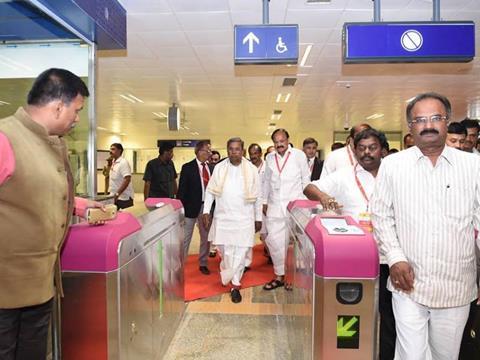 INDIA: The central section of the Namma Metro Purple Line in Bangalore was inaugurated on April 29, ahead of the start of revenue services the following day. With the completion of its first phase, the standard gauge route now has 17 stations.
The 5·1 km central section links MG Road in the east with Magadi Road in the west. There are four underground stations and an at-grade station at Majestic, where interchange is provided with the north-south Green Line. Construction started in 2006 but was delayed because of difficult geological conditions. The central section links the 6·7 km eastern section, which opened between Byappanahalli and M G Road in October 2011, and the 6·8 km western section, which was inaugurated in November 2015 between Mysore Road and Magadi Road.
Services are operated with a fleet of trainsets supplied by a consortium of BEML, Mitsubishi and Hyundai Rotem, which draw power at 750 V DC through a third rail.
Phase 2 of the metro will add 72 km to the network, and includes two new lines, as well as extensions at both ends of the Purple Line. A 6·5 km extension west from Mysore Road to Kengeri would add five stations, and a western extension from Baiyyappanahalli to Whitefield would add 13 stations on a 15·5 km alignment.
The total cost of Phase 2 is Rs264·1bn, of which the Karnataka state government is providing Rs90bn. It is envisaged that Phase 2 will be commissioned by 2020, after work on the remaining sections of Phase 1 is completed this year, including a 10 km southern extension of the Green Line.