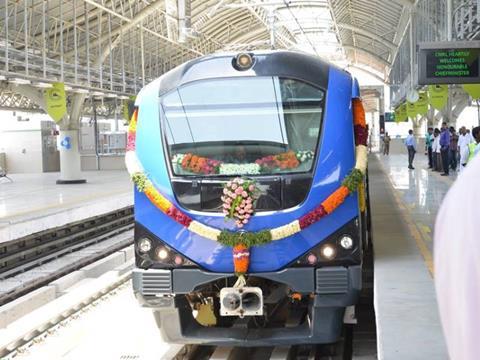 INDIA: The Chennai metro opened for passenger services on June 29, with the first train being flagged off by Tamil Nadu Chief Minister J Jayalalithaa.
The first 10 km section of Line 2 runs north on an elevated alignment from Alandur to Koyambedu with five intermediate stations. Construction of the standard gauge line began in June 2009. When completed, Line 2 would extend for 22 km from Chennai Central to St Thomas Mount with 17 stations, with 12·3 km running on elevated alignment and 9·7 km underground.
Phase I of the metro also includes Line 1, a 23·1 km route that would link Washermanpet to the airport. Interchange between the two lines would be provided at Chennai Central.
Of the Rs146bn total cost, JICA is providing an Rs86·5bn loan, with the remainder coming from the national and Tamil Nadu governments.
Services run at 10 min headways from 06.00 to 22.00 seven days a week. Chennai Metro Rail Limited placed a €243m order for 42 four-car Alstom Metropolis trainsets in 2010. The first nine are being built in Alstom's Lapa plant in Brazil and the remainder at its Sricity factory in India. The air-conditioned trainsets have 176 seats and capacity for 1 100 standing passengers in two classes, and could be extended to six cars in the future. The stainless steel trainsets are powered by overhead catenary at 25 kV 50 Hz and have a maximum operational speed of 72 km/h.