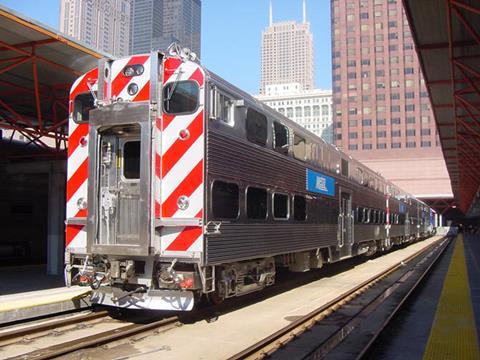 USA: Chicago commuter rail operator Metra has proposed a 10-year, $2·4bn modernisation plan, which it says is the 'first long-term rolling stock plan in Metra history'.
Of the current fleet of 837 coaches, 40% date from before the 1990s. The plan would see the purchase of 367 new cars to replace 318 cars with an average age of 43 years and to increase by 49 the number of spare cars. The total cost is estimated at $1·2bn, with 106 cars to be delivered in 2018-19 and 261 in 2020-24. This is in addition to the 186 Highliner cars for the Metra Electric Line, deliveries of which are due to end next year.
'Folks may love nostalgia, but it makes a powerful statement when our oldest cars date from the Eisenhower administration', said Metra Board Chairman Martin Oberman, adding that 'the majority of our rail cars are older than the majority of our daily commuters.'
Also included is $20m for improvements to the 49th Street workshops, which would allow work to be undertaken on 60 coaches per year rather than 40 currently.
A further $178·5m would rebuild 85 of the 146 locomotives to extend their service life by 25 years; 52 new locos would be purchased in 2020 for delivery in to 2024, at a cost of $416m.
The modernisation plan also allocates $275m for the installation of Positive Train Control, in line with federal requirements, in addition to the $133m that Metra has already set aside for this.
According to the Chicago Regional Transportation Authority, Metra needs $9·9bn over the next decade to achieve and maintain a state of good repair, of which about one-quarter is expected to come from 'traditional' state and federal sources. The plan assumes $710m from state and federal sources and $400m from Metra, leaving $1·3bn to come from other sources.
Metra is considering issuing bonds for the first time or using 'similar financing'. This is intended to raise $100m in 2015, and similar amounts in 2017, 2019 and 2022. Part of the 10·8% fare increase in Metra's proposed 2015 operating budget will pay for debt servicing on the first $100m.