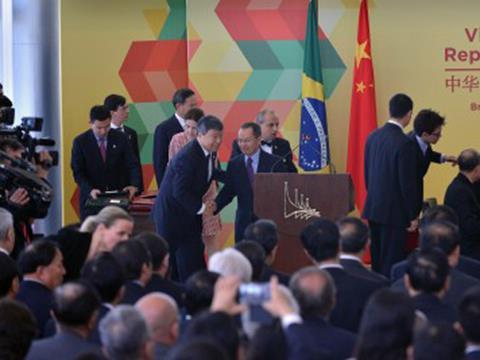 BRAZIL: A five-year memorandum of understanding for Brazil and China to co-operate on railway projects was one of 32 bilateral agreements signed in Brasília on July 17 during an official visit by President Xi Jinping of China.
'Our relations are developing with an unparalleled speed in many areas of co-operation', said President of Brazil Dilma Rousseff. 'China and Brazil are the biggest developing economies in their respective hemispheres, growing closer all the time'.
According to the Ministry of Transport, the agreement will cover the exchange of best practice in areas including railway construction and freight operations. It also aims to encourage private-sector investment in new railways in Brazil, as well as co-operation on upgrading projects.
In addition, Brazil and China have signed an agreement with Peru to examine the feasibility of building a transcontinental railway between Brazil and Peru, which would serve large areas of agricultural production and mineral extraction. On the Brazilian side, the Ministry of Transport says it is preparing to call tenders for a concession to build 883 km of new railway from Campinorte in Goiás state to Lucas do Rio Verde in Mato Grosso. Planning is underway for a further 1 510 km through Sapezal to Porto Velho, which would be extended via Rio Branco and Cruzerio do Sul in Acre state to reach the Peruvian border.
China Railway Construction Corp is reported to have signed an agreement with Camargo Corrêa to examine the potential for bidding together on railway concession projects in Brazil.