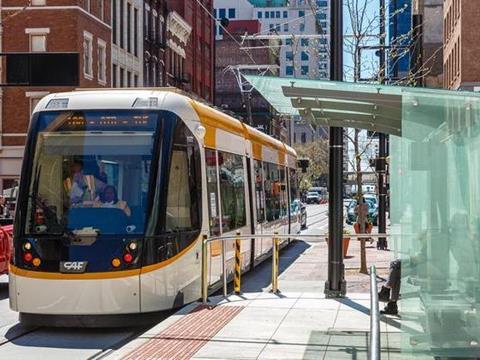 USA: Southwest Ohio Regional Transit Authority announced on August 18 that Advertising Vehicles, its advertising sales contractor for the Cincinnati Streetcar, had signed a naming rights contract for the 5·8 km line that is due to open on September 9.
Local telecoms company Cincinnati Bell will pay $340 000 per year for 10 years under the contract, with proceeds going towards operational expenditure. The service will be renamed the Cincinnati Bell Connector, and the fleet of five CAF Urbos trams will carry Cincinnati Bell graphics on the front, back, top and interior, replacing the current logo and livery. The 18 stops will also carry the company's branding. The contract does not exclude other advertising being sold inside and outside the vehicles.
'We look forward to a long and productive partnership with Cincinnati Bell on the Cincinnati Bell Connector and thank them for their continued commitment to the City of Cincinnati', said City Manager Harry Black.
The Cincinnati Streetcar is owned and funded by the city of Cincinnati and managed by the Southwest Ohio Regional Transit Authority. Transdev was awarded an operations and maintenance contract in July 2015.