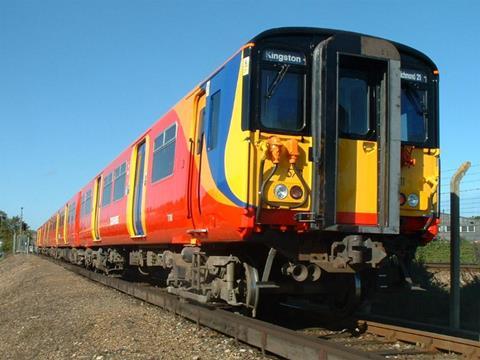 UK: On November 23 South West Trains returned to service the first two of its 91 Class 455 inner-suburban EMUs which are being refurbished at Bombardier's Ashford works.
The mid-life refurbishment project will be completed in March 2008. The £67m cost is being funded by Porterbrook, and will be recouped by incremental lease charges to SWT. Hornagold & Hills is project manager, with detailed design work undertaken by AEA Technology Rail and Atlantic Design.
The interior layout has been revised to increase capacity by improving passenger flow. Following passenger consultation, SWT decided to drop the under-used middle seat in the former 3+2 layout in favour of 2+2 seating, with the increased space used to provide more standing room, wider aisles and easier to reach grab rails, which should accommodate an extra 60 standing passengers per unit.
To determine how best to minimise station dwell times through faster boarding, The Railway Consultancy carried out detailed testing of different interior configurations using a carriage mock-up and a team of 95 people. The doors now open wider to allow two people to pass, and the draught screens have been set further back so that passengers standing against them will not block the doorways.
Grammer is supplying 244 new seats for each four-car unit, and these have high backs to meet crash safety requirements. A further 28 perch seats are provided, and there are tip-up seats in the wheelchair spaces as well as in multi-purpose areas for luggage, bikes or additional wheelchairs. Accessibility has been improved within the constraints of the existing bodyshell, the Strategic Railway Authority having agreed that prohibitively-expensive modifications would not be demanded.
The EMUs are receiving a complete electrical overhaul, with the auxiliary switches, relays and fuses replaced by modern equivalents to improve reliability. The existing traction equipment and wiring have been retained, but Saft 70 Ah batteries have replaced 40 Ah batteries, and the use of LED marker and door indicator lights will further reduce maintenance requirements.
According to Project Sponsor Andrew McIntosh, SWT hopes the refurbishment programme will reduce delays due to rolling stock faults by 3000 minutes per month when the entire fleet is completed. 'They will be the most reliable suburban trains in the country', believes Managing Director Andrew Haines. The Class 455s accounted for half of the 143·5 million passenger-journeys handled by SWT in 2003-04.
Installation of CCTV from RPS will be part-funded by Transport for London.