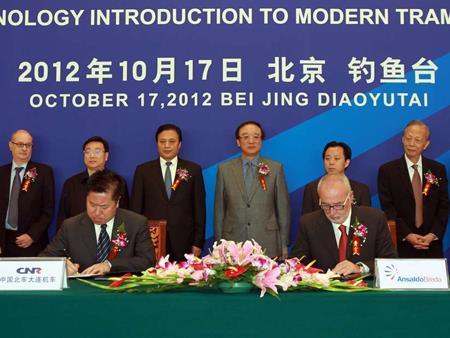 CHINA: CNR Dalian has signed a 10-year agreement to manufacture low-floor trams from AnsaldoBreda's Sirio family under licence. CNR estimates that up to 54 tram lines could be built in China over coming years, requiring up to 1200 vehicles.
The partners envisage the production of up to 600 Sirio trams, which would make the deal signed on October 17 worth €200m to AnsaldoBreda. The first 10 trams would be produced at AnsaldoBreda's Pistoia plant in Italy, and the company would provide technology transfer and training for CNR Dalian employees.
'This partnership represents a further opportunity to open up to new markets with great potential for development', said AnsaldoBreda CEO Maurizio Manfellotto.
In July AnsaldoBreda's sister Finmeccanica company Ansaldo STS signed an agreement for its Tramwave catenary-free technology to be sold in the Chinese market.