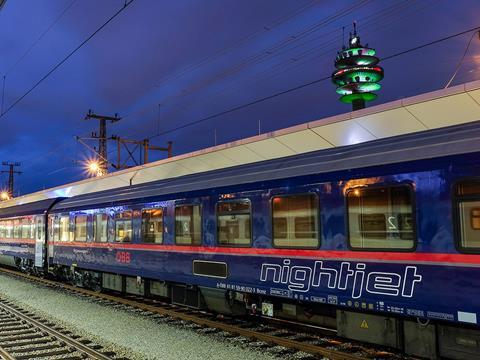 After years of decline, overnight trains in Europe could be on the cusp of a renaissance. Rail is increasingly being hailed as a sustainable alternative to short-haul flying, encouraged in part by the flygskam (flight shaming) movement that originated in Sweden, and bolstered by the success of ÖBB's revamped Nightjet network, which is on course to carry almost 2 million passengers this year.
Incumbent operators typically cited the expansion of high speed day services and competition from no-frills airlines as justification for abandoning their overnight trains, which were logistically complex to run and in many cases needed substantial reinvestment in new rolling stock. However, some have persisted and reinvented their services for a changing market. A well-targeted offer can cater for a wide range of customers, ranging from sleeper cabins with en suite facilities at premium prices to low-cost seats competitive with the long-distance bus operators which now run an extensive network of cheap overnight routes.
Various studies have been commissioned in recent months to look at the potential for re-establishing overnight trains in different parts of Europe. Earlier this year, the Swedish government committed SKr50m to develop international rail links to major European cities, and as a first step SJ is reportedly looking to add selected international destinations to its online booking system. Danish transport minister Benny Engelbrecht has expressed his support, but DSB told local media on July 16 that it did not intend to buy its own sleeping cars, as it could not see how such an investment could be profitable.
Having withdrawn from the overnight market in 2009, Swiss Federal Railways is examining options to work with Nightjet, which already serves several destinations in Switzerland. ÖBB has been in discussions with NS over the extension of Nightjet to Amsterdam, but it says this would have to be subsidised. The existing network has been carefully configured to ensure all rolling stock returns to Wien for maintenance on a regular cycle, and extending some routes may unbalance these arrangements.
A study for the Dutch government by the Knowledge Institute for Mobility Policy published last month identified eight potential destinations, ranging from København (789 km) to Warszawa (1 191 km). Assuming that many hurdles can be overcome, including a more level playing field in terms of fuel taxes and infrastructure charges, KiM estimates that these routes could attract between 700 000 and 1 million passenger journeys per year.
Proponents suggest that the delivery of 13 new trainsets for Nightjet from 2022 could release older vehicles for redeployment to test new markets before committing to any substantial investment in a modern fleet. However, the introduction of new stock can bring its own challenges. The multiple technical problems with the hotel train vehicles currently being introduced by Caledonian Sleeper are seriously tarnishing that brand at a time when franchise operator Serco is looking to transform the London – Scotland services into a luxury product commanding premium prices.
Overnight services in France have retrenched substantially in recent years, but Transport Minister Élisabeth Borne — who has now been given an expanded brief including environment — has already authorised funding to revitalise the two remaining overnight Intercités de Nuit trains which link Paris with Briançon and Latour-de-Carol. The government recently confirmed that it would 'submit to parliament a report on the prospects for a revival of night trains by June 30 2020'.
The economics of overnight trains are very finely balanced, particularly given the complexities of cross-border operation and the relatively low capacity of sleeping cars. Couchettes and reclining seat coaches offer greater capacity, albeit at lower levels of comfort which necessitate cheaper fares. As we report on p17, independent operator RegioJet has purchased 18 second-hand couchette cars to strengthen its popular trains between the Czech Republic and Slovakia, citing increasing demand.
Welcoming this move, new entrants' association AllRail called for further opening up of the market, pointing out that 'innovative private operators' such as RegioJet, Snälltåget and Leo Express 'already operate night trains through Europe that depend on a customer-focused approach', rather than government subsidies.
While all of this interest is welcome, there is still a long way to go in turning the vision into reality, and proponents should be under no illusion that it will be easy. Even on potentially profitable corridors, establishing new overnight services will almost certainly require some form of start-up assistance. There is potentially a case for tendering the operation of such services, as happens with some of the residual domestic overnight trains in Scandinavia, for example.
While some routes may prove attractive to private operators, questions remain over the availability of suitable rolling stock, and operating agreements for the provision of train crew and station facilities. Non-discriminatory access to servicing depots will also be important, as overnight trains typically require intensive logistics support a long way from home.