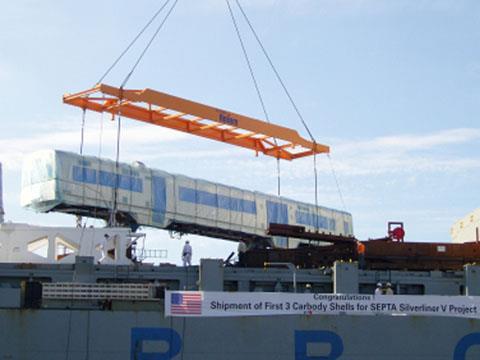 USA: The first three Silverliner V electric multiple-unit car bodyshells for Philadelphia's SEPTA arrived from South Korea on October 21. They were taken by road to an assembly plant leased by Hyundai Rotem USA, which has a US$274·1m contract to supply 120 vehicles.
Delivery of three prototypes had originally been set for December 2008, but contract variations led to a revised schedule being agreed. Series production will be authorised once testing is complete.
SEPTA plans to retire 73 Silverliner II and III cars which are now about 40 years old and increase its commuter fleet by about 50 cars.
The first pair of M-8 cars for New York MTA's Metro-North Railroad New Haven Line were shipped from Kawasaki's Kobe plant on October 28. Three additional pairs will be dispatched over four months, providing a full eight-car train for testing. The state of Connecticut placed a US$713m order for 300 cars, and expects to exercise an option for another 80 cars.