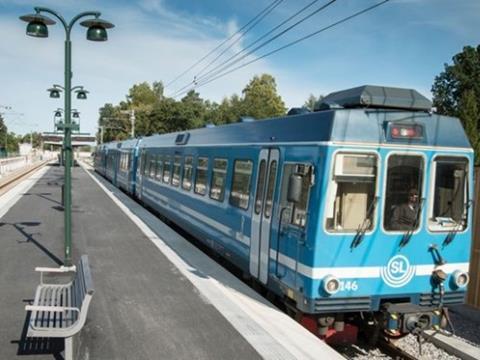 SWEDEN: Regional transport authority AB Storstockholms Lokaltrafik has awarded a €26m contract to Spanish construction company Comsa for double-tracking a 5·2 km section of the 891 mm gauge Roslagsbanan network to the northeast of the capital.
Under an expansion strategy adopted in 2010, SL is planning to introduce more frequent commuter services on both the northern line to Vallentuna, where a new EMU depot is to be built at Molnby, and as far as Åkersberga on the eastern branch to Österskär. Work began in March on the reconstruction of 3·5 route-km through the junction at Roslags Nasby, which will see the second track extended to Tibble by January 2018. The rebuilding of Roslags Nasby station will include the construction of new park and ride facilities.
The contract announced on July 19 covers the double-tracking of the Tibble – Visinge section through the town of Täby, which was approved in May 2015. Work will start later this year for completion by October 2017. As well as installing the second track and rebuilding the three stations at Tibble, Ensta and Visinge, Comsa will be responsible for upgrading level crossings with improved facilities for cyclists and pedestrians, as well as electrification, signalling and telecommunications works.
The Visinge – Täby Kyrkby and Kragstalund – Vallentuna sections have already been double-tracked, and SL began public consultation in May on its plans for doubling the missing stretch between Täby Kyrkby and Kragstalund.
Although Comsa says this is its first Swedish railway contract, the group has been active in the country's infrastructure market since 2014, with its Lithuanian subsidiary Kauno Tiltai undertaking both road and urban development projects.