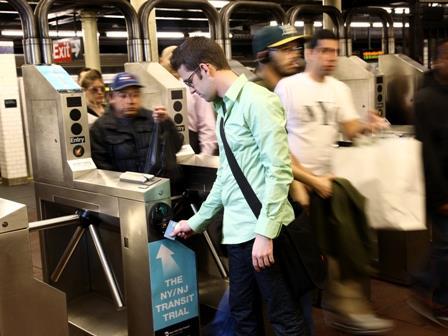 USA: Three transport agencies have launched a six month trial of a Tap & Go fare payment system on selected train and bus routes in New York and New Jersey.

The Metropolitan Transportation Agency, Port Authority of New York & New Jersey and NJ Transit have collaborated with MasterCard to develop PayPass, an integrated fare payment card which can be used on all three networks. Payment readers with the PayPass logo and universal contactless symbol have been installed at participating stations on the Lexington Avenue subway lines 4, 5 and 6 from 138th Street in the Bronx to Borough Hall in Brooklyn, and at 11 PATH stations.

The trial, which will run from June 1 to November 30, follows a successful pilot of contactless payment by MTA, MasterCard and Citigroup on 80 fare gates at 30 stations in 2006. The current programme allows MasterCard PayPass customers to choose either pre-paid or pay-as-you-go options; existing time-based and discounted fares offered on MTA and NJT services are included in the scheme. Other contactless payment-enabled card users will have to wait two months before they can participate in the trial.

'By using an open network we'll break down regional barriers and let people travel across the region with a card that's already sitting in their wallets', said MTA Chairman & CEO Jay Walder. 'We are thrilled to be working with the Port Authority, NJ Transit and MasterCard to test these innovations.'
Learn more about MTA's capital plan by reading our interview with MTA Chairman & CEO Jay Walder in the June issue of Metro Report International.