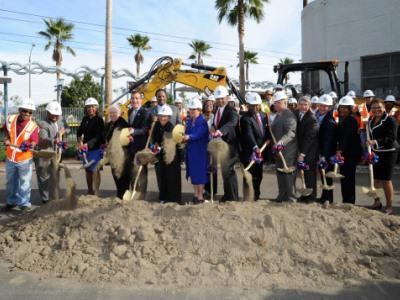 USA: A groundbreaking ceremony for the Crenshaw/LAX light rail line was held in Los Angeles on January 21 at Crenshaw station on the Expo Line.
The 13·7 km north–south line will link the existing Expo and Green lines, serving the Crenshaw Corridor, Inglewood, Westchester and the area around Los Angeles International Airport. Three of the eight stations will be underground, and construction will also include a maintenance facility and park-and-ride sites. Heavy construction is expected to begin in the next few months, with opening due in 2019.
Around 55% of the alignment will be segregated, with bored tunnel, cut-and-cover tunnel and an elevated section. Some of the route will use the alignment of the Los Angeles Rail Line, which closed in 1955. The Walsh/Shea Corridor Constructors joint venture of Walsh Construction and J. F. Shea Co is building the line, starting from Crenshaw/Exposition underground station at the northern end. Tunnel boring machines will work south to 48th Street, where the tracks will rise to street level.
This is one of 12 Los Angeles public transport projects to receive funding from Measure R, a 0·5% sales tax approved with a two-thirds majority of Los Angeles County voters in 2008. The US Department of Transportation's Transportation Infrastructure Finance and Innovation Act programme, is providing a $545·9m loan, and the $2·1bn project is also expected to receive $130m in other federal funds. According to officials, the project will create 18 000 jobs, over half of them for 'economically disadvantaged workers'.
Metro and Los Angeles World Airports are planning to build an Airport Metro Connector to link the Crenshaw/LAX Line to the airport terminals. This could be a light rail line, a peoplemover or a combination of the two.
Read more about the expansion of the Los Angeles urban rail network in the June 2013 issue of Metro Report International, available to subscribers in our digital archive.