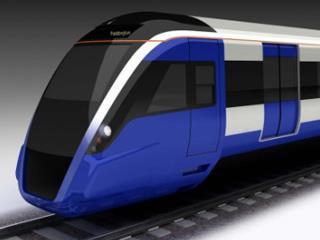 UK: Prequalified bidders Bombardier Transportation, CAF, Hitachi Rail Europe and Siemens were formally invited to negotiate for the contract to supply rolling stock and the maintenance depot for the Crossrail project on February 28.
Crossrail will provide a high-capacity service running 118 km east-west across London using existing lines linked by a new central tunnel. It will require 'around 60' electric multiple-units, with 57 in service at any one time.
Project promoter Crossrail Ltd estimates that the capital cost of the trains and the depot at Old Oak Common will be around £1bn, making it the largest single contract within the project.
Crossrail Ltd said the trains are required to use 'evolutionary, not revolutionary, technology for utmost reliability from day one'. They will have wide gangways and space around the doors to minimise congestion and provide room for luggage and pushchairs. Passenger information should be updated continuously, and the trains must be integrated with platform screen doors at underground stations. Energy-saving features will include regenerative braking, real-time metering and 'intelligent control' of heating and cooling systems, which will include full air-conditioning for passengers and the driver.
Bidding timeline
Although procurement is being managed by Crossrail Ltd, the contract will be awarded by its parent Transport for London, which is also to award a train operating concession for the Crossrail network.
The initial OJEU notice for the new fleet was published in November 2010 and prequalified bidders announced in March 2011; Alstom Transport subsequently withdrew in July 2011. The pre-qualified bidders have now been invited to submit tenders 'during summer 2012'. There will be two rounds to the process, the first focusing on technical proposals and approaches to securing finance. A shortlist of bidders will then be invited to participate in the second round, focusing on 'fully-funded proposals'.
The preferred bidder will then be selected, with the rolling stock and depot contract to be awarded in 'spring 2014'.
The first trains are scheduled to enter service on the Great Eastern Main Line from May 2017, with the fleet progressively introduced on the existing network ahead of services commencing through the central tunnel under London.
Responsible procurement
The procurement process will incorporate recommendations from the government's Growth Review of public procurement. In a written statement to the House of Commons, Secretary of State for Transport Justine Greening said a 'responsible procurement' requirement means bidders 'will need to set out how they will engage with the wider supply chain and provide opportunities for training, apprenticeships and for small and medium-size businesses within their procurement strategy.'
Greening said there will be 'a significant element' of public investment alongside private finance, 'optimising the balance of public debt and transfer of risk to the private sector'. This should 'ease the costs of debt repayments to the public purse, as well as reduce bidders' requirements to raise debt and equity, while still transferring significant risk to the private sector ensuring that we secure value for money.'
Greening added that 'first and foremost, the successful bidder must be able to deliver the right trains and depot facilities.'
Crossrail train specification
Length, maximum
205 m
Speed
145 km/h
Acceleration
up to 1 m/s²
Power supply
25 kV AC overhead line, with potential to convert to 750 V DC third rail capability
Unladen weight, maximum
350 tonnes
Energy consumption
24 kWh/train-km
equivalent to 55 g CO2/pass-km
Seats
450
Wheelchair spaces
4
Total passenger capacity
1500
Signalling systems

Automatic Train Operation in central tunnel
ETCS for surface running
Legacy systems until ETCS is fully installed