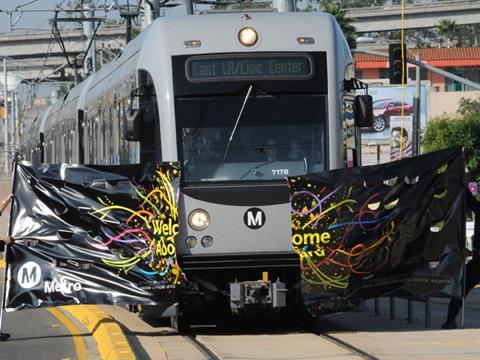 USA: An estimated 75 000 people got free rides on November 15 during the opening celebration for a 9·7 km extension of the Gold Line from Union Station to East Los Angeles. The public launch followed a formal opening ceremony for the East Side extension on the previous day. No fares were collected along the entire route, including the existing segment from the city centre to Pasadena.

Trains started running at 03.40 but even at mid-morning there were relatively few riders, and MTA employees - wearing bright gold T-shirts and assigned to manage the expected crowds - outnumbered passengers at some of the eight new stations. But as mid-day approached, people arrived by the thousands and soon there were long queues stretching several blocks at most stops. Most jam-packed were Union Station and the new terminus at Atlantic.

Every available light rail vehicle was pressed into service, with each train consisting of three cars. To help control the huge throngs, the service was split into two segments, with trains from East LA and Pasadena reversing at Union Station. Passengers were required to disembark and queue again, either to continue their journeys or to return to their station of origin.

The project cost US$898m, including a 2·7 km two-station underground section, and took five years to construct after a decade of planning. Revenue service began on November 16 with through trains from Pasadena to Atlantic.