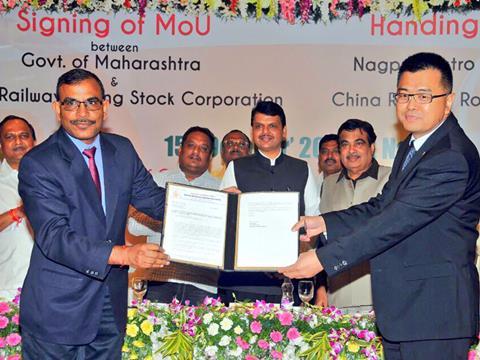 INDIA: A memorandum of understanding for the development of a metro car factory at the Multi-modal International Cargo Hub & Airport Nagpur industrial site was signed by the government of Maharashtra and China Railway Rolling Stock Corp on October 15.
During the event Nagpur Metro Rail Corp handed CRRC a letter of intent for a Rs8·51bn order to supply and maintain 23 three-car stainless steel trainsets under a deal which would require local production. BEML and Titaghar had also bid for the contract to supply the trainsets, which will be used on the 19·7 km north–south and 18·6 km east–west lines which are under construction for completion in 2018-19.
The state's Chief Minister, Devendra Fadnavis, said CRRC's planned Rs15bn investment in the MIHAN facility would provide employment opportunities for 5 000 people. Maharashtra Industrial Development Corp will provide the land.
Fadnavis also announced that NMRC would be given responsibility for the Pune metro project, which would use rolling stock produced at the MIHAN factory.